Research...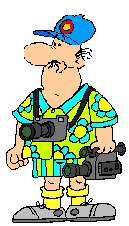 This might look like a goofy outfit for researching a pond, but I assure you that some of your best ideas will come from your cameras and pictures of other people's ponds and what Mother Nature has done...

But that's jumping the gun a little. Your first job in researching a pond is to call your local building inspectors to see what you CAN do. In some areas, all ponds are classed as swimming pools and have the same requirements. Other places have limits on size, or drainage, above or below ground, or even whether you can do it yourself or need to have professionals do the work. You also will usually need to stay a certain distance from the property lines. Some of these rules may affect what you decide to do. For instance, in my area, if a pond is less than 10,000 gallons, does not hook up to the sewer line and has no direct connection to city water, can be done by the home owner with no inspections or anything else required.

Next, start to attend those seminars and club meetings you found out about during the thinking process. I know you think you are too busy, but you just might find out information that will prevent the really nasty mistakes.

Get your camera and start looking around you. If your local club or a club near by has a pond tour, take it and take lots of pictures. Visit your local arboretum, nature center, and/or botanical gardens for ideas. Take lots of pictures and video. Check out your local zoo! Yes, I said zoo. With the emphasis on natural settings, zoos are installing ponds as part of their exhibits.

While you're at it, take a bunch of pictures of your yard. After a big rain is good so you can see the soggy parts. Take them from an upstairs window if available or even think about using a ladder or, IF YOU'RE REAL CAREFUL AND HAVE ADULT SUPERVISION (;-), the roof. There I said it, but be careful. The author of this web page cannot be held responsible for any accidents or injuries due to any conduct suggested herein. That said, and my butt covered, we can continue.

Who was it that said, "First we shoot all the lawyers."?

While we are talking about pictures, dig out your old vacation pictures. You might be surprised what gold lies there.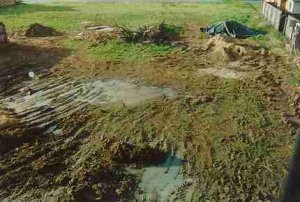 My backyard. This is what I had to work with. Looks pretty nasty, but I think it is coming around nicely as you will see when I can find time to scan the photos.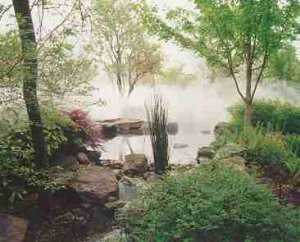 And these are some pictures from the Dallas Arboretum... As I said, you would be surprised what you can find in your own home town. This is upper part of their fern garden. They have misters hooked up to their sprinkler system to spray the "fog" you see.. This upper pond empties into a little stream that runs through the garden. This place is great for wedding photos.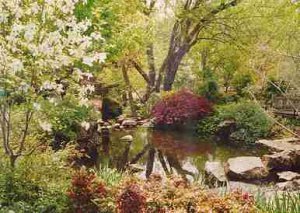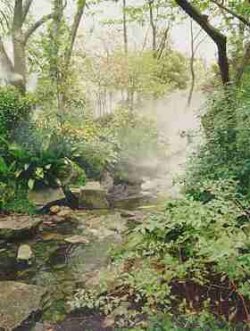 They have ponds all over this garden and it is worth your while to visit them if you are in Dallas. The best time of year is around Easter when the azaleas are in bloom. This is a pond on the north end of the park.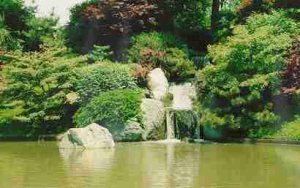 And the Missouri Botanical Gardens... These are wonderful gardens with a HUGE pond! Oh, for this much land and a backhoe! Not many of us has this much land, but ponds like this are a good place to steal planting ideas.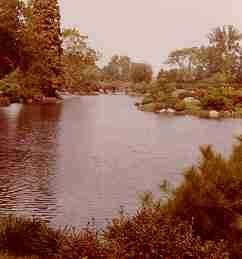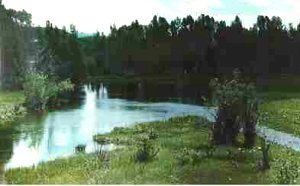 How about nature... Grand Teton National Forest... (also the picture on first page) Like I said, you need to look around you, especially if you are going for the natural look. The best pond designer was here long before any of us. I mean, do you REALLY think you can find a pump to do waterfalls like this? But that doesn't mean that we can't use this for ideas for scale, flow, sound, color. Notice the way everything knits together. See, your pond is not just water, but a whole environment, including the area around it. Things go together. While you are planning your pond, think about what you are going to plant around it!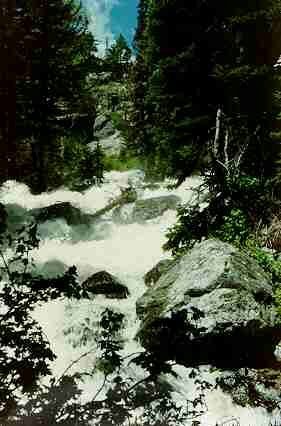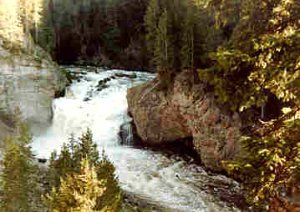 So much for a chance to post a few pictures, but I hope you get what I'm talking about. Part of research is also actually checking out what is available, supply wise. Check your yellow pages for pond stores. In my book, the pond stores are listed under "Fountains and Water Gardens". You can't build a pond bigger than your liner! Ask your club members about the reliable vendors. Also, check out the Library page for a few catalogs. If you visit one of the many pond tours, ask a few of the people you visit where they buy their stuff! I've gotten some great catalog tips this way.

If you have any questions, shoot me an e-mail at:

Back to the Start?
Copyright Chuck Rush 2003